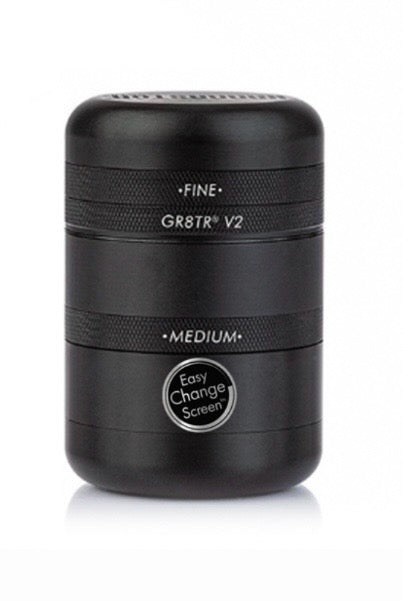 Kannastor GR8TR V2 Herb Grinder JAR Body Easy Change Screen
The GR8TR® V2 Jar Body has it all including both Vape and Standard Easy Change Grinder plates, a 60 Mesh Stainless steel Easy Change Screen™, top lid bonus storage and all the modularity that one could ever hope for.
The GR8TR® is Modular by design, allowing the GR8TR® to be assembled and configured in many ways, the choice is yours.
Not interested in sifting? Remove the sifting chamber to create a perfect 3pc GR8TR®. Convert your GR8TR® into a Storage Sifter and get the most out of your Herbs. Grind and Go. Brake the GR8TR® into a slim pocketable Storage Puck. No other grinder offers this many versatile configurations.
We have both models, with and without the glass piece. These are picked at random so don't be surprised by either one. 
Dimensions - 3.75" (H) x  2.125" (D)
Limited Lifetime Warranty
Premium Food Grade Quality
Engineered for a Perfect Grind
Spare Grinder Plate Storage
Anti Friction & Residue Rings
Deep Dish Grinding Chamber
Easy Change GR8TR® Plates
Grounds Storage & Screen Chamber
Shipping From Edmonton Alberta Canada using Discounted shipping rates 
If you have a code , you can use it at checkout!
For questions about anything, just use the contact info at the bottom of the page. 
All of our products are 100% Genuine,  Authenticity Guaranteed or your money back! 
⭐️⭐️⭐️⭐️⭐️ We are also Top Rated Ebay Store with years of experience