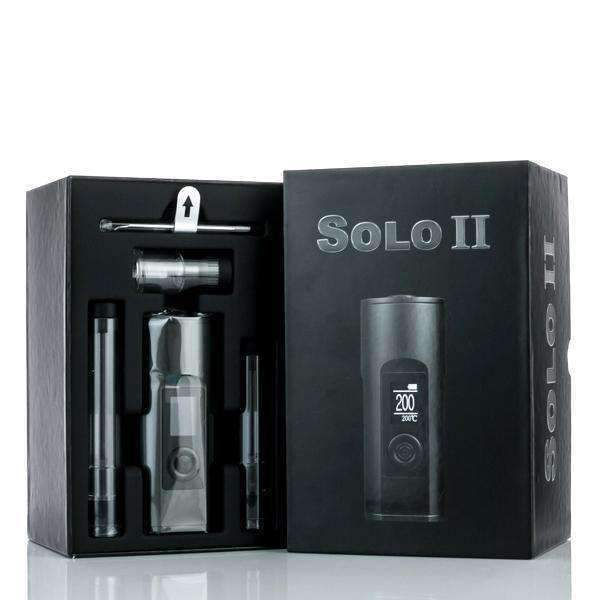 Arizer Solo 2 Portable Dry herb Vaporizer
Heats up super fast and gives complete control
at your fingertips. Vapor the way you like it
without the need for apps or gimmicks.
PURE GLASS VAPOR PATH
Our unique hybrid heating system utilizes
a pure borosilicate glass vapor path to
deliver smooth & tasty vapor.
Spend more time enjoying and less time cleaning
with our two-piece system. The removable glass
mouthpiece is cleaned with ease and the device
itself is maintenance free.
Custom Session Settings
(Only from Arizer)
Isolated Airpath & All Glass Vapor Path
Precise Digital Temperature
Industry Leading Customer Service
Manufacturer's Warranty
Carefully Sourced, High Quality Components
1 x Solo II Portable Micro-Heater
1 x Solo II Charger / Power Adapter
1 x Solo II Glass Aroma Tube (90mm)
1 x Solo II Glass Aroma Tube (110mm)
1 x Solo II Glass Aroma Dish
1 x Solo II PVC Travel Tube w/Cap (90mm Size)
1 x Solo II PVC Travel Tube w/Cap (110mm Size)
1 x Solo II PVC Travel Tube w/Cap Aroma Dish Size
1 x Solo II Belt-Clip Carry Case
2 x Solo II Silicone Stem Caps
4 x Solo II Stainless Steel Fate Screens
1 x Stainless Steel Stirring Tool
1 x Sample Aromatic Botanicals
1 x Solo II Owner's Manual