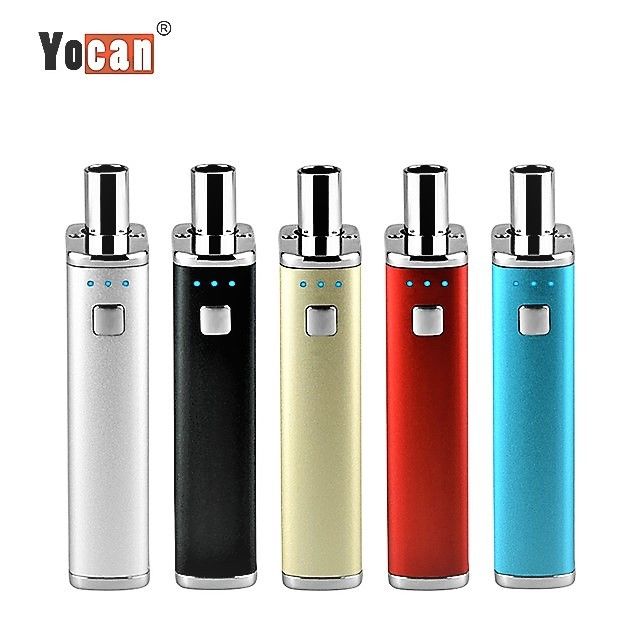 Yocan Hive 2.0 kit for oils, distillates, thick oils, and concentrates
Unlike the original YOCAN Hive, the Yocan Hive 2.0 comes with adjustable voltage control. This is a marked improvement in terms of design and performance.
In the older version without voltage adjustment, vapor usually ranged from weak to burnt taste in a few seconds. As a result, using the device for an extended period was not possible. This problem seems to have been taken care of in the latest version.
There are three different levels – low, medium and high. One blue light shows low level, two lights indicate medium level and three lights indicate high level.
The output voltage can be easily adjusted for various occasions. To adjust the temperature after switching on the device, you simply need to press the power button three times.
Manufacturing Quality
This is a tiny device which looks like a cross between a hip flask and an MP3 player. The simple design makes it good for discreet use. It easily fits in the palm of your hand so you can enjoy discreet draws wherever you want to feel the high.
The built-in 650mAh battery cannot be removed but it lasts throughout the day with consistent use. Just beneath the connector, you will see the indicator lights that allow you to adjust the voltage. The power button is located below the indicator light.
There's a window on the side that helps you check the level of oil. The USB charging outlet on the front makes it easier to charge the device whenever you want.
The product is available in five exciting colors – silver, black, gold, red and blue.
The manufacturer claims that the device has a no-leakage design. However, if you are using thinner concentrates then the e-juice leaks almost immediately making it a sticky mess to fill the e-juice tank.