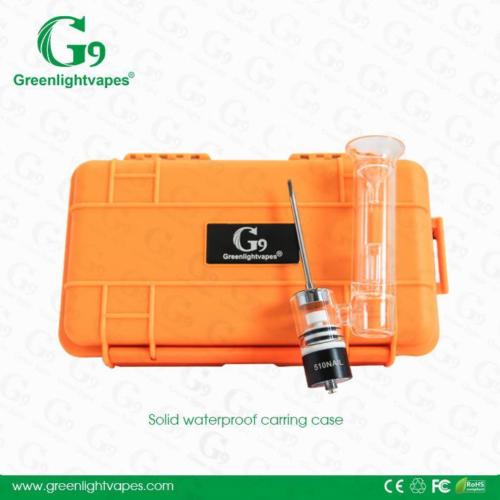 GreenlightVapes G9 510 NAIL With Travel Case
The G9 510Nail updated with newest tech ceramic heating,  it can hold more than 1700 times continuous heating at wattage 95W, much more powerful and Stable. And the 510Nail is , you can even dab in the dark and it can also directly show the device if its heating or not, much more safer.
This will fit on any vape pen battery or box mod with 510 thread which basically mean all since 510 thread is the standard out there. 
Specifications:
Magnetized Nail / Cover
Non-Spillable Glass Casing
Ceramic / Quartz / Titanium Coils
510 Threading
Can be Used With Water
Portable Friendly

Removable/replaceable heat top (New design)

Box mod not included,
Unit includes:  
1x Glass Attachment
1x 510Nail Version 3.0 With Ceramic Nail
1x new replaceable/removable heating top
1x Glass Attachment
1x Replacement Quartz Nail
1x Magnetic SS Carb Cap & tool
1x Replacement O-Rings
1x User manual
1x pelican box
 6 Month Manufacturers Warranty
For optimal performance we recommend the use at the 50W range.