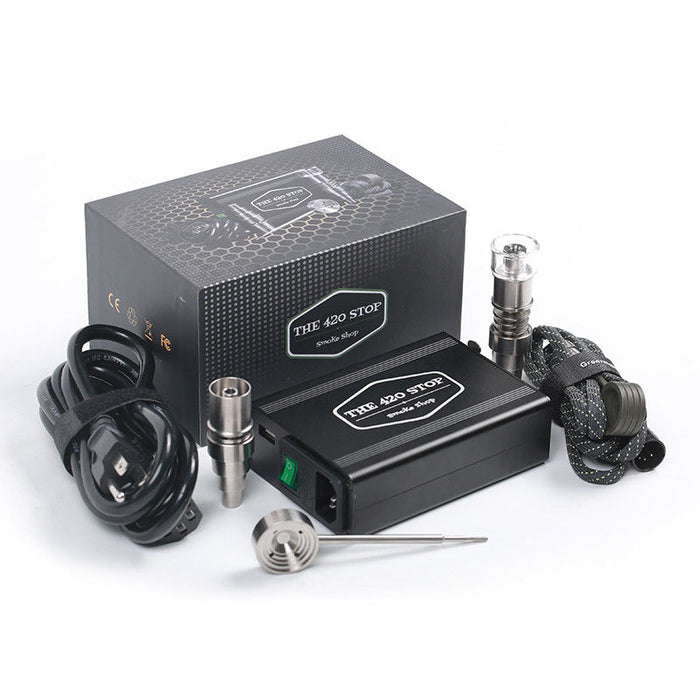 The 420 Stop Enail Kit 20 Mm With 2 Type Nails. Electric Precision
THE 420 STOP Electric Precision E-Nail Kit 
20 MM coil with matching size nails
1 year warranty on controller box, 90 days on coil. We can process warranty claims right here :) 
Description
The 420 stop precision e-nail is a plug-and-play smart PID controller. It is for controlling the hot runner coli heater. This controller is professionally built with XMT-7100 PID and tuned. The e-nail will heat from room temperature to max 1300℉(Approx. 700℃)within 1 to 2 minutes with almost no temperature overshot.
The coil is rated as 100W under 110VAC. The cable is 5 feet long with black Kevlar Fire retardant sleeve.
The nails will fit most all rigs.

Kit  includes:
1x 420 stop precision enail temperature control box with digital screen;
1x  titanium nail - 4 in 1 fits most rigs- 10mm/14mm/18mm 
1x  titanium/ quarts nail - 4 in 1 fits most rigs- 10mm/14mm/18mm
1x 6 ft. removable power cable;
1x 5 ft. long heating coil cord featuring a non-falammable Kevlar sheath;
1x Titanium carb cap with removable dab tool;
1x Cardboard box.
Attention buyer: This item contains no nicotine, alcohol, or tobacco and is not an e-cigarette.
By purchasing this product you agree to the following:
1. You are at least 18 years of age.
2. You agree that any vaporizing supplies purchased will be used for lawful purposes for aromatherapy use only.
3. It is legal in your state or area to purchase related products.
4. You will use this product entirely at your own risk and discretion and the seller will not be responsible for any injury, use, or misuse of the products.
Returns: Accepted within 30 days on NON-USED/UNOPENED items. Also has 1 year IN HOUSE warranty!!